One thing I asked my Dad to buy when I was in Jakarta was this double-pan called Happy Call. I know, the name itself really bothers me but that actually triggers me to pay attention. The commercial was on TV when we were having breakfast in one morning and we happen to be watching a home shopping channel. I'm pretty new with home shopping in Indonesia.
I finally made the call and they did the same day delivery by a courier and we pay cash for the pan on the spot when it was delivered. LOL.. no credit cards no nothing.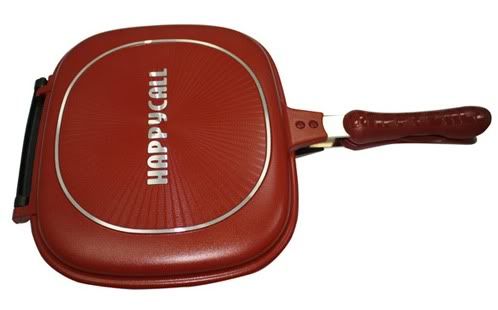 Since I got back to DE, I tried this pan for few dishes already - I did few Indonesian dishes -
chicken bumbu bali
,
chicken rendang
, and
beef rendang
. The pan is awesome! Cut my cooking time to half! Simply close the pan with the magnet and wait for 15-20 minutes. Usually it takes around 45 minutes for me to cook it on a regular pan/pot.
This pan is non-stick and requers no oil at all. I think it's perfect to make pancakes, omelets, fish, seafood, turkey bacon, veggies.. and more! I can't wait to try out new recipes.
The pan itself is Korean made. I dont know if they sell it here in the US but I paid 880,000 IDR which is about $102.96 according to Google. A bit expensive to my liking but it's on Dad so price doesn't matter :P