I had some down time over the weekend and really enjoyed catching up with house-chores, sleep, pending errands, and some good home food. I was so busy that I haven't been able to do my cooking routine, so it was nice to get into the groove again.
Since there's so much things going, I had a difficult time to decide what to write first on this post. I went back to my recent one and did mentioned to post a shopping haul. So here goes.
Ever since my last post about pumps
here
, I have taken some serious thought and action to start collecting more pairs into my wardrobe. From that post, you know that I decided to keep the Cole Haan Air Violet 90 Pump and returned all the other pairs. Well, this Cole Haan pair was one of the 4-5 heels that I brought back to Indonesia for my vacation. Turns out this heel is far more beyond comfortable. It is also so versatile that I wore it almost 80% of the time out of all of the other heels. I wore them to parties, dinner outing, brunching, weddings, and almost every single event that I went to. I dress them up with gowns and dress them down with a pair of skinny jeans.. the choice is endless.
Even for interviews!
Shirt: H&M, Skirt: F21, Cardigan: XSML, Belt: Mom's Vintage Gucci, Bag: Furla, Watch: MKors, Tights: Marks & Spencer, Shoes: Cole Haan
And weddings..
Dress: Zara, Clutch: Santi from Gilt, Tights: Marks & Spencer, Shoes: Cole Haan
When I got back here, it's the only right
thing
to do to get few more pairs - which I did eventually. It took me a while longer to do so because I wasn't able to settle to pay them in full-price. My first pump was purchased with a 40% sale so it was hard to justify getting new pairs for retail price. I waited and waited and finally on the same week, there was another 40% off at Colehaan.com and also 55% off at NeimanMarcus.com. Between the two websites, I was able to get two pairs in my size with free shipping.
The first pair is "BEET" color of the same Cole Haan Air Violet 90 Pump. The color is so vibrant and fun, it's such a great punch to be paired with any LBD. It's also something that I could wear on any neutral-colored outfits.



The second pair is in black and called Cole Haan Stephanie Air Peep-Toe Pump. This particular pump is a tiny bit higher than the Air Violet by 1/2" but the platform infront made it easy to walk. I love this black pump because of the different material. It's made by black dyed calf hair upper and snake-embossed leather trim on the platform and heels. So chic!
Now, the third heels that I purchased was when I was in Jakarta. It was one of those days where everyone was busy and all I got is my driver standing by to take me places. I decided to take a trip to the nearby mall and found TOPSHOP there. Since it was a weekday, the store was empty with no customers. I took my time going around the store checking out everything, then went to the very back to see all the shoes on the shelves. Half of them were on sale and I immediately eyed this cap-toe blue/black pumps like they're screaming BUY ME!. The cobalt blue was just mesmerizing that I had to try them on. The material is in suede leather which made it very soft and comfortable to walk even without any platform support.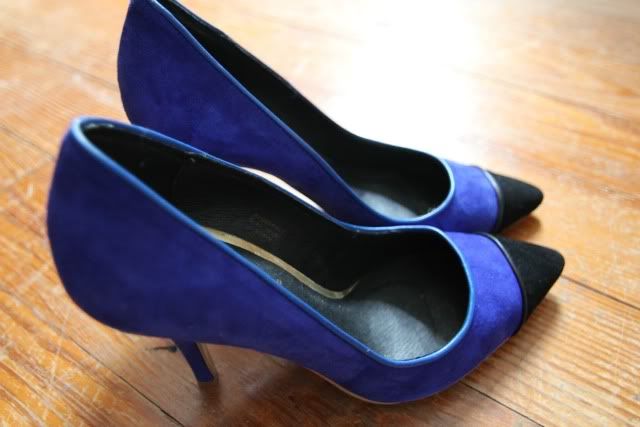 And the price was overly reasonable. The sale price was discounted more than 50% off. From $120 retail price, I ended up paying roughly about $50. What a steal! Then I remembered, I blogged about this shoes before here. LOL!