Awesome movie! James Cameron did it again. The the blues and greens we saw in the movie, ideas for real-life make up are in place. Check this out taken from the msn lifestyle page: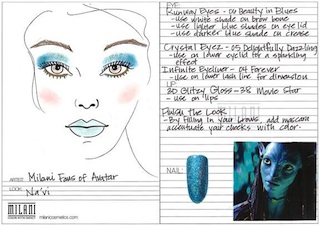 You need not see James Cameron's mega-blockbuster movie, Avatar, to get a sense of the enormity of its appeal, especially stylistically.
These aqua avatars have it all in the looks department. They're lithe, delicate and yet fierce, with outsized cheekbones and lanky legs.
They're also bluish-green. Surprise (not): Get ready for makeup meant to make you feel like you too can drop daintily from the treetops.
The Milani makeup line is first among the brands to pitch its colors as Avatar-inspired.
What that adds up to, basically, is stripping blue eye shadow across your eyes, and wiping, yes, a slightly blue hue across your lips. Add sparkly shadow on the lower lid and glittery aqua nail polish, Milani advises.
A voila! You are now invincible.
Another one of course from Michelle Phan..