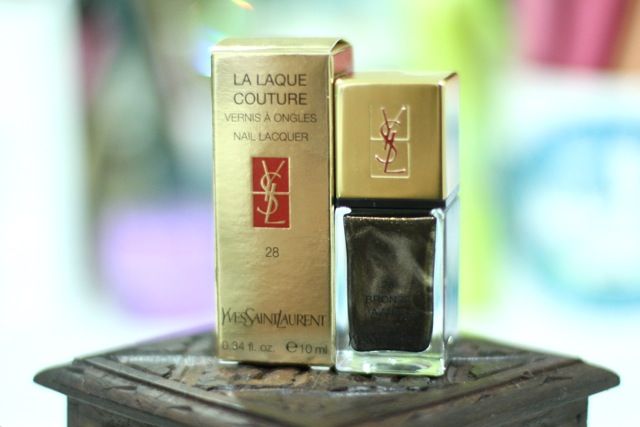 I picked up this nail polish when I was vacationing in Munich, Germany last month. I saw the YSL counter and was lured by the dark galactical bronze shade of this color called "28 Bronze Aztec" from their fall collection. With the tiny gold particles mixed in the dark base color, the shade look rich and glam. Again, similar to the Estee Lauder's nail polish bottle, YSL also comes with a gold cap and squared glass bottle. Perhaps this combo reflects luxury in packaging for the high-end beauty products.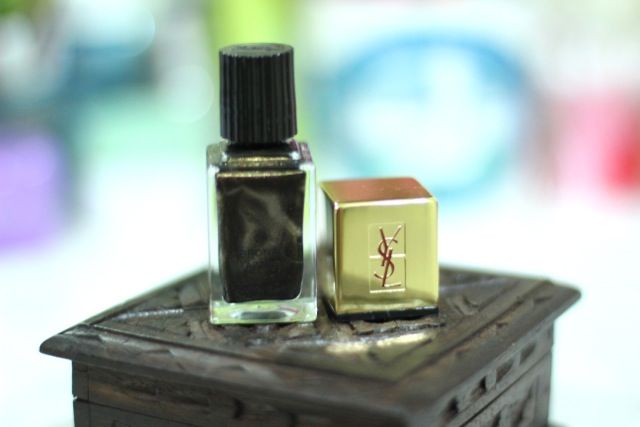 This is my first bottle of YSL nail polish and although it is on the expensive side, I am satisfied with my purchase. I would rather invest on a premium quality nail polish for dark colors because the low quality ones usually gives a stain on my nails after removal. Yes, you can use a base coat before application to prevent the staining, but I personally like my manicure routine as short as possible. So any unnecessary step that I can skip is quite worthy to me.
The bottle gives 0.34 fl. oz. / 10ml for $25 USD.
For more info:
Sephora.com
xoxo
Sari Soepono