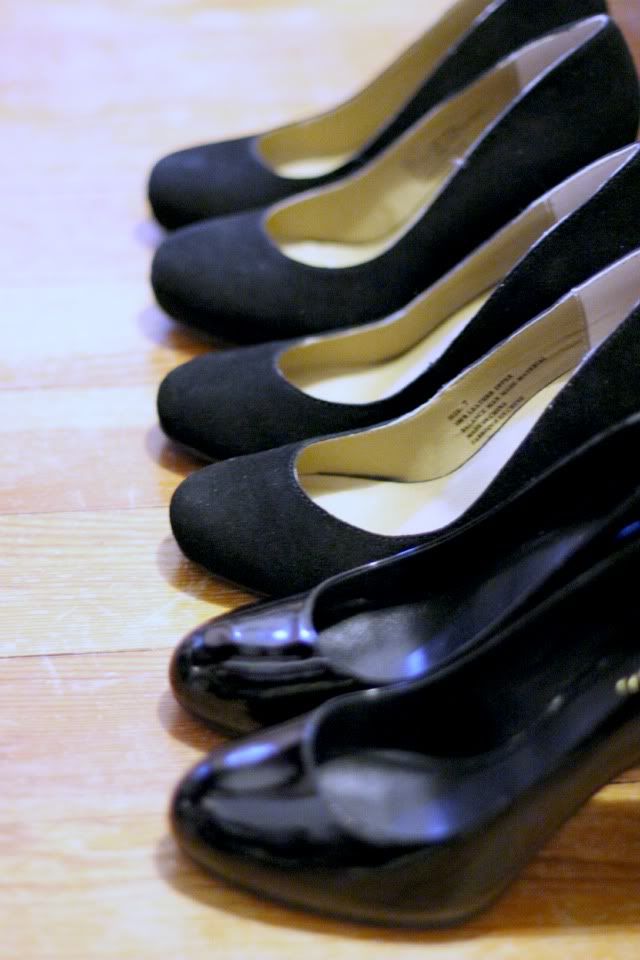 Not too long ago, I posted this on my FB status
If you see my last comment, I had settled with the lens as oppose to the shoes. Well, to be honest, I do still need a pair of black pump and been thinking to pick one up without spending $600+. To me, finding the perfect pumps is very tricky. The fit on your toes and heels, the right height for your lifestyle, the arch, the insoles and materials - the list goes on. And I can't really determine what's the right one for me because I rarely tries them on whenever I go shoe shopping.
For some reason whenever I'm in the store I'm always drawn to the colorful heels, sandals, wedges, anything but (boring) black pumps. So it is a challenge for me. I want to have a good quality decent black pump that works for work and play, and doesn't look cheap and tacky. I found several that I like online, but concerned about the comfort level. My next best thing is googling the review on each of them which sometimes are 50/50 average which makes it even tougher.
Alright, without extending more about my research process on this, I finally narrowed it down to 3 black pumps that I purchased in plan of returning the 2 and keeping only 1 pair that I truly like. The first 2 were purchased from Urban Outfitters. They are relatively budget priced (less than $100) and perhaps more for play than work due to the shape and materials. The third one is from Cole Haan which is on the higher price point. Obviously, they are better made shoes and I love the classic shape.
1.
Deena & Ozzy Angled Split Pump
2.
UO Suede Pump
3.
Cole Haan Violet Air Pump 90
After examining those 3 pumps, I can't deny that it's a no-brainer to keep the Cole Haan one for several reasons:
1. Comfort level is a 9 out of 10 due to the Nike Air soles. (Cole Haan is owned by Nike Air so the majority of their shoes are made with Nike Air soles. It's a merge between style and comfort.) I gave a 9 because it is leather so there will be a "breaking in" phase.
2. The almond shape toe and straight heels made the shoes look classic and the 3.5" heel with 1/2" hidden platform is also perfect. It's high enough for play and comfortable enough for work. It feels like wearing a 3" heel really.
3. The black patent leather looks very nice and not plastic-y like other pumps I've seen before.
4. Insoles are so soft and have a lot of support even around the edges.The other two had rough edges that eats in to my skin when I wear it.
The
Cole Haan Violet Air Pump 90
goes for $248 retail price but I got mine with the 30% off friends and family event when I was in NY this past weekend, which brings it down to rougly about $175. Way cheaper compared to the
Christian Louboutin
I was eyeing for $625.
What is your perfect black pump?