I've been thinking about writing up a post that is somewhat informative based on my personal experience. So, I thought I should write my experiences on finding the perfect jeans.
Not until the recent years, I had a real grip of my body shape and structure. I come to a good understanding that you need to know your body in order to dress properly enhancing the shape and size rather than covering up the negatives.
I had gone through trial and error to finally find what works. I have a long torso, longer than the normal person in comparison to the length of my legs. I'm 5'5 and given the length of my torso, my legs should have been longer.. so in an ideal world, I should have been taller than 5'5. Also, I have a curvy thicker hip/thighs and the problems with this type of shape is it's very hard to find a pair of jeans that "fits". Most cases, I have to go a size up only to get a comfortable fit on the hip and thigh, but there's always a big gap in the waist line (obviously because it's 1 size larger than my real size). A quick fix to this is by wearing a wider belt to compromise the waist gap to stay close to the body. Not too flattering.
So to sum things up my body have a
long torso, shorter legs, and curvy hip and thighs
. LOL! It's God's gifts so I have to just work it.
I find the jeans that most complements my body shape are straight and boot cut style. Skinny jeans dont work as well as they do not balance out my hip at all, however, I do have a few which I typically pair them with a loose oversize flowy top.
Here's some of my favorites that fits me well.
Straight Jeans


Boot Cut Jeans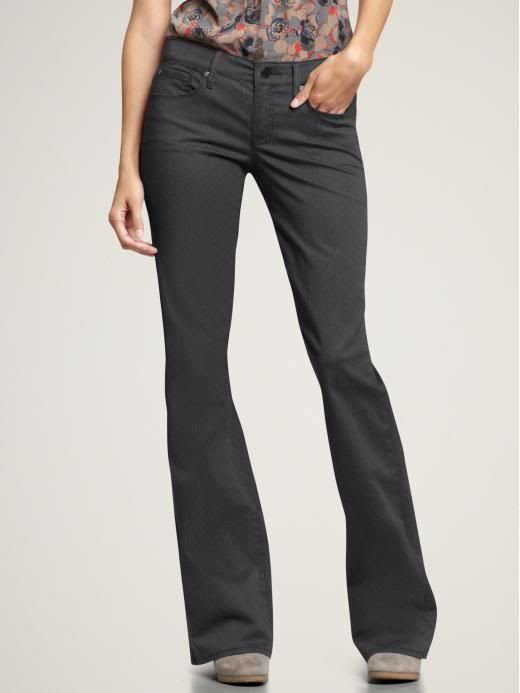 GAP Perfect Boot Cut Jeans
For skinny jeans, I don't really have a favorite as of now.. but what I'm currently wearing is the H&M skinnies. If fits great but my complain is it looses its stretch-i-ness within one wear, but what do you expect for $24.99? LOL! I also got this GAP recently in "Rose" planning to wear it over the Spring/Summer. I like this jeans because it's relatively lighter material perfect for the warmer weather.
Skinny Jeans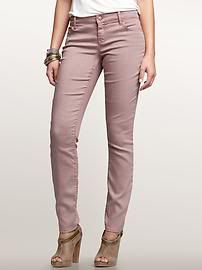 GAP 1969 Lightweight Always Skinny Skimmer Jeans
If you see all of the jeans I listed, you can see that all of them have mid-rise cut except the GAP skinny jeans. Mid-rise is generally better because it will give the illusion of longer legs since your waist is cut on a higher part of the body rather than a low-rise. It also helps tremendously to hide those love handles.
Also, a good hem alteration is a must due to the shorter legs. Any regular size jeans typically runs long for me even pairing it with sky high heels. So, this $10 -$15 investment on hemming is definitely a necessity and completely worth it. Make sure you brought/wear the shoes that you want to be paired with the jeans so that the tailor can measure the length accordingly against the shoe sole. If you don't want to spend the additional $$ for alteration, you might be lucky if the jeans you like carries the "Short" version. Most times this will work as well.
Lastly, an important item to complete the look is a pair of heels. It doesn't have to be those 5 inch killer heels but any sort of extra height will boast the overall look. I have very few flats (boots, sandals, ballet flats) among my shoe collection for this very reason. Heels only can elongate the legs more.
I hope this post is somewhat helpful to anyone who has the same problems with me. I honestly feel that I can skip the agony of finding that perfect pair of jeans only if I have known this sooner. Knowing your body shape well and knowing what works make shopping way easier and more enjoyable. Good luck!