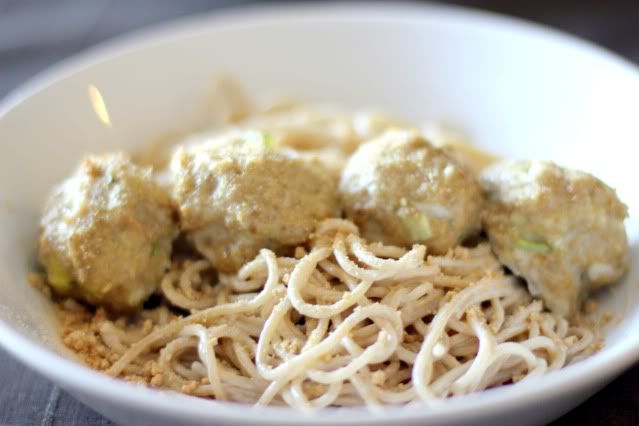 Have you guys bought those frozen meatballs from the grocery store ? .. yeah.. not that great I know.. turns out making your own meat balls at home is sooo easy that I seriously don't ever wanna buy that frozen balls ever again. In this recipe, I decided to go with chicken meatball to be combined with some whole grain spaghetti and alfredo sauce.
What you need
1/2 lbs of lean ground chicken
1 egg
bread crumbs
scallions - chopped
garlic - minced
salt & pepper
grated parmesan cheese
What you do
Mix ground chicken with all ingredients in a medium size mixing bowl - you can use your hands or spatula whichever is more convenient.
Once the mixture is nicely mixed, start rolling the mixture into medium size balls to a aluminum foil covered baking pan.
Line the meatballs leaving a good space between each of them to fill up the entire pan.
Put the pan into a 350F heat oven for 20 minutes and the meatballs are golden.
Enjoy them with marinara sauce or alfredo sauce (like I did) with any type of pasta to your liking.
Enjoy!